I visited Cuba in 2016 on a botanical trip, visiting beautiful gardens and searching for endangered plants. One of our destinations, Viñales, is known for amazing geological formations. Limestone hills called mogotes rise steeply from the valley. With their isolation, they have many endemic species.
A week into our trip, I arranged with our local host to explore a local mogote to get a better look at some of these unique plants. Most of the group decided to stay at the hotel but I was joined by the intrepid Louise Clarke. We drove to the nearby Mural of Prehistory. This nearly 400-foot-tall mural was created by a team of 18 artists over many years, sensibly using ropes to access their rocky canvas. It shows the evolution of life in Cuba, beginning with ancient sea creatures, moving through dinosaurs, and ending with people. Though fascinating, our primary goal was exploring the hillside itself.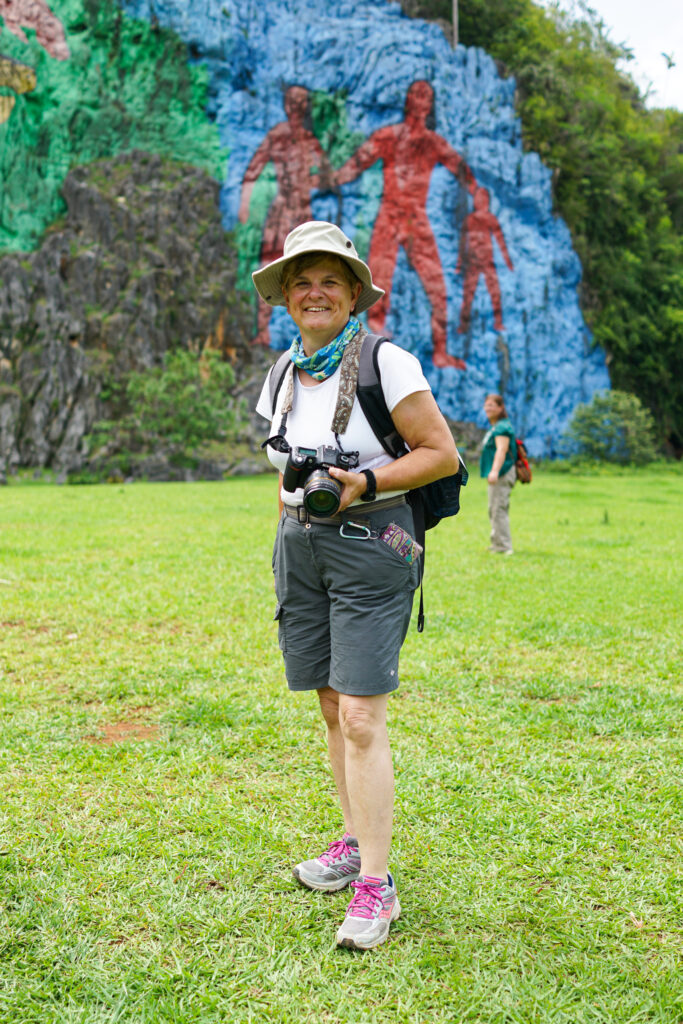 Louise is posing in front of the mural, with Lucia receding in the background already eager to get on with our hike. Lucia had been here before and assured us there were steps leading up the hill. As we approached the base, a couple was coming back from the mogote toward us, saying the trail was very rough and they had given up after a couple minutes. This did not deter Lucia, who assured us this was an easy hike because of the stairways.
We walked for maybe 10 minutes, basically straight up using little indentations in the rock as hand and footholds, when she admitted there should be steps by now. Still, we kept climbing. I can't really say the hill grew steeper, since it started off that way, but after another 15 minutes there was at least an illusion to me of more perpendicular topography.
Further adding to the difficulty, I had purchased a new camera bag right before the trip. I was carrying three cameras with assorted lenses so I could quickly and easily pull out whichever I needed, not risking getting dust in the cameras by changing lenses in the field. As I should have already learned, it's a bad idea to buy something for a trip without testing it ahead of time. This shoulder bag had an annoying tendency, particularly obvious when walking on vertical surfaces, of swinging around suddenly and pulling me backward. So, as I gripped the cliff, the bag would abruptly relocate and do its best to pull me down.
We finally reached an area where we could begin to see and photograph some of the endemic species, unique to this precipitous landscape. Lucia seemed ready to continue climbing straight up, indefinitely. I was getting a Picnic at Hanging Rock vibe from her and as we rounded the corner to a sheer cliff, she reluctantly agreed we had run out of trail.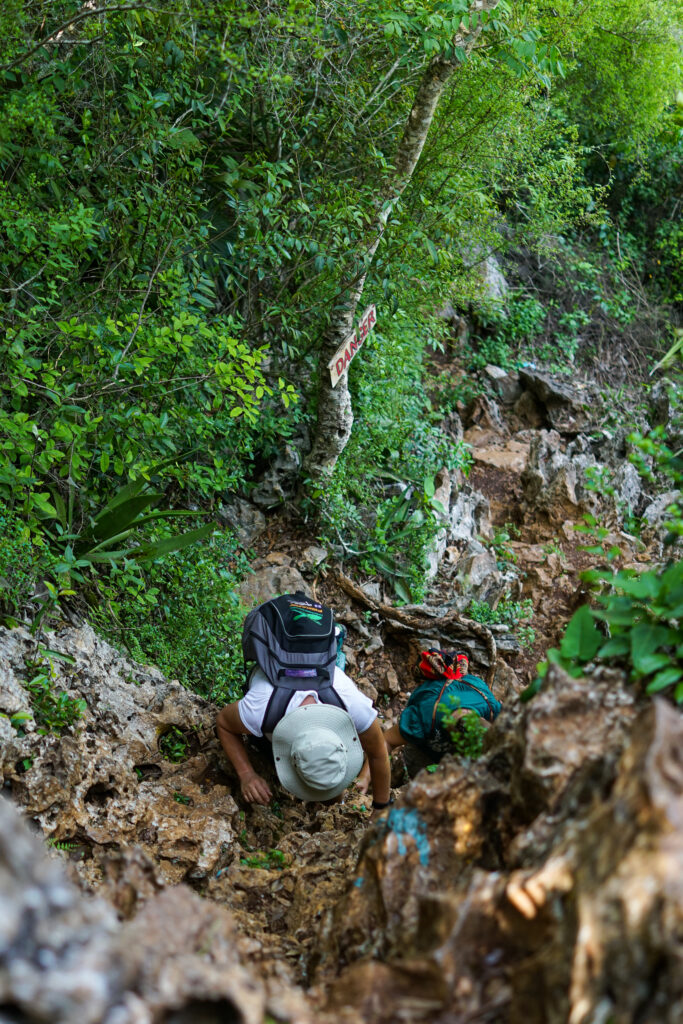 As you can see in this picture on our return, the large danger sign in English was specifically directed to people like us, who clearly ignored the signs in Spanish lower on the slope. Clearly the implication is you must be a foolish foreigner if you continued this high. We later learned the steps had been removed, most likely to discourage adventurers like us. Louise is demonstrating the technique of finding microscopic hand and footholds, while Lucia is charging down at her single speed- full steam ahead.
Louise and I had planted the seeds of friendship and kept in touch, and this past summer when I planned a trip to Pennsylvania, I arranged to meet her. We first met by chance at a plant sale, in a deluge resembling a tropical downpour to make us feel as if we never left Cuba. We chatted for a while, punctuated by her directing traffic in the parking lot. A couple days later, as originally planned, I met her at the Morris Arboretum where she was then working. She gave me a wonderful tour of the many amazing specimens. My favorite was her three large tufa containers, in which she created amazing miniature landscapes.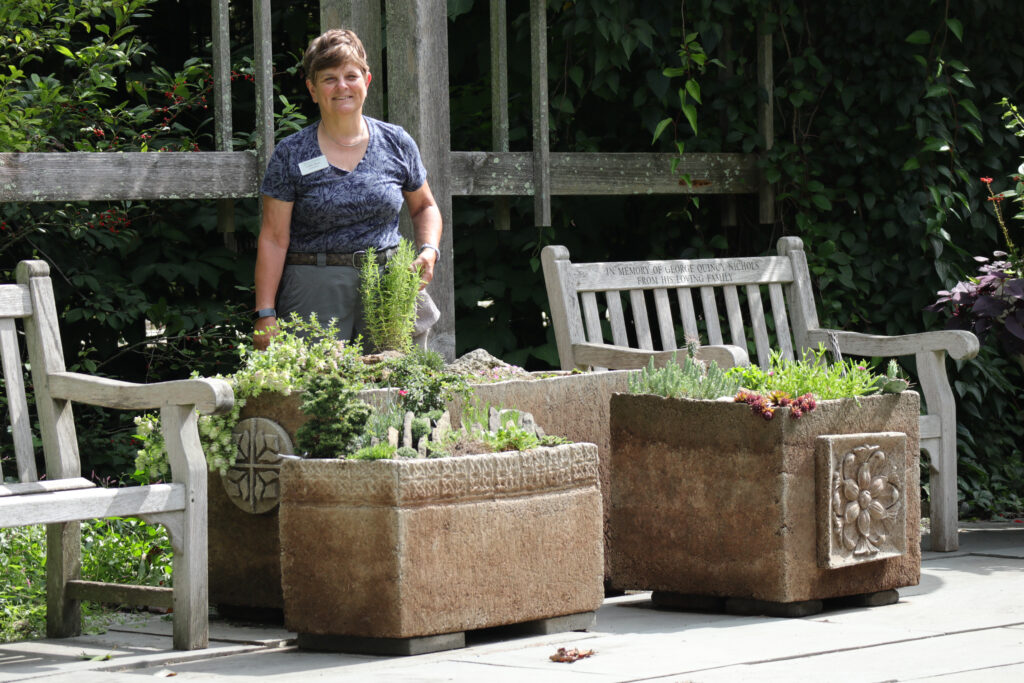 After exploring on my own while she went back to work, we met for lunch. Then to fulfill our karma, we ventured up to the roof where she had created a wonderful botanical extravaganza. It wouldn't seem normal to spend all my time on level ground with Louise. We saw Echinacea tennesseensis, Tennessee coneflower, grown from seed. It seemed somewhat incongruous that since I live in Tennessee it took coming to Pennsylvania to finally see this flower. It grows wild in only a few Tennessee counties and is a rare conservation success. The plant was delisted in 2011 as an endangered species after many partners working together brought it back from the brink. On this afternoon, a skipper butterfly seemed pleased with its survival.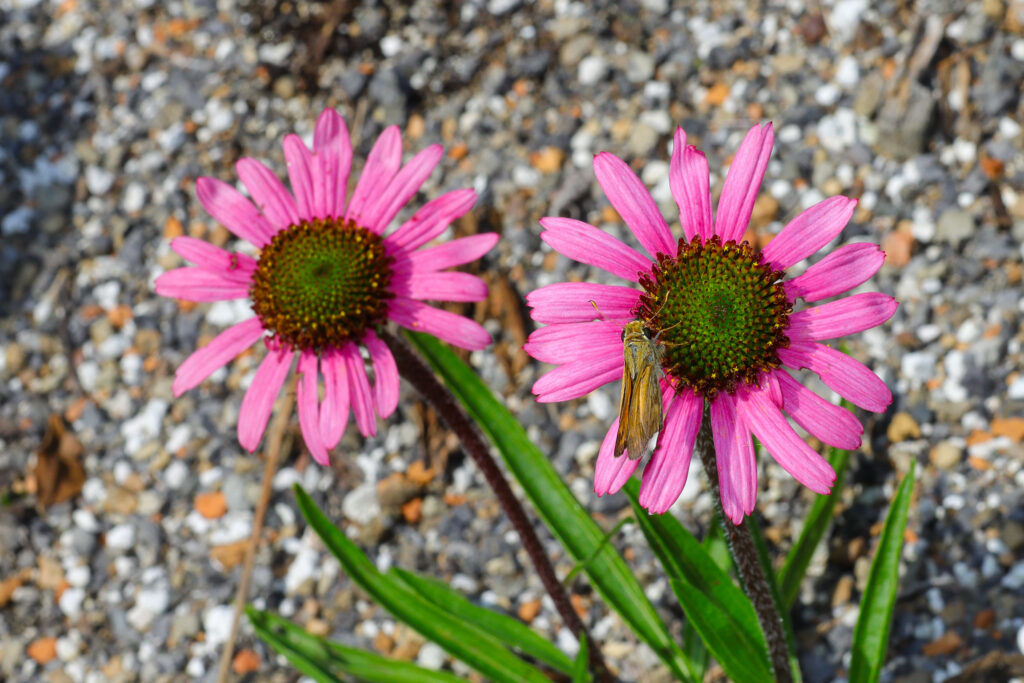 So now to tie this convoluted story together. I've been starting plants from seed since before I can remember. It's a great way to quickly populate a new garden, and sometimes the only way to find more obscure plants. It's always exciting to peer into tiny envelopes and imagine the splendid future of those miniscule dots. Starting seeds requires a belief in the magic of transformation.
This year there was a connection I find both amusing and amazing. I've received seeds from NARGS, the North American Rock Garden Society, for decades. This is generally an anonymous transaction. A magic envelope arrives in the mail from the universe of botanical wonder. But this year, my seeds were packed by Louise Clarke. They are now sitting in their pots on my porch. In honor of her love of precipices, perhaps one of these seeds will inaugurate my cliff garden. I may have sowed plants, but I am also growing friendship.