This week is the height of bloom for bloodroot both in the woods and in my garden. As the plant emerges, the new leaf wraps around the flower bud, then the flower rises on its own stem, leaving the sheltering leaf behind. They are the Goldilocks of flowers, only opening if the day is not too cloudy, not too cold, but just right. They slowly fold up at day's end, in darkness of night closing tight as a bud.
These flowers really epitomize spring ephemerals. Though most blossoms last at least a few days, some last literally less than a day. Occasionally for no apparent reason, I will find a newly opened bloom in the morning and by the time I return in the evening on a sunny, windless day, the petals lie shattered like glass on the earth.
In my garden I have added a few of my favorite cultivars. Sanguinaria canadensis 'Snow Cone' is courtesy of Jan Sacks and Marty Schafer of Joe Pye Weed's Garden. This form can have up to 25 petals. It is shown flowering here this week in my garden, with two flowers open and buds of several more on the way. Jan and Marty made a clonal selection of the 'Tennessee Form' of bloodroot and created this amazing cultivar in their Massachusetts garden, taking a circuitous route back to me here in Tennessee. It is fully fertile, so who knows what my feral flowers will ultimately create with this new eligible garden denizen.
My Sanguinaria canadensis 'Multiplex' is now in bud. This is an amazing double flowered bloodroot looking like a terrestrial waterlily. It was discovered by Guido von Webern in 1916 on his land in Ohio. Though a naturally occurring plant it was sterile, so he nurtured it for years through cuttings and gave a few divisions to botanist friends. When he passed away in 1966 initially it was feared the plant died with him. Luckily one of his gifts survived and was propagated by Henry Teuscher of the Montreal Botanic Gardens. Guido's generosity ensured his serendipitous discovery survived to parent all the plants in gardens today.
With a parade of buds slowly but steadily opening is Sanguinaria canadensis 'Venus'. This flowers for weeks rather than just the day or two of my wild flowers. It has deep pink stems and buds which open to the palest pink interior petals. The darker pink undersides are retained, creating a beautiful two-toned effect as seen here from below.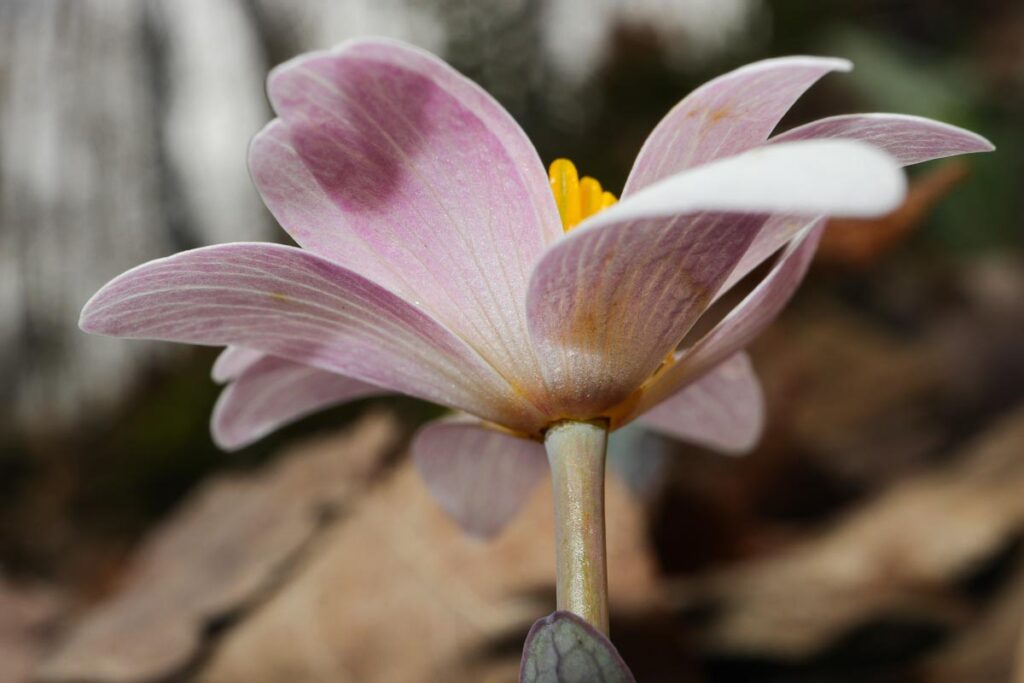 My wild bloodroot exhibit fascinating variation. Most have eight petals, but some have twice that, give or take a few. This photo taken last week shows a flower with 14 petals, visited by a bee.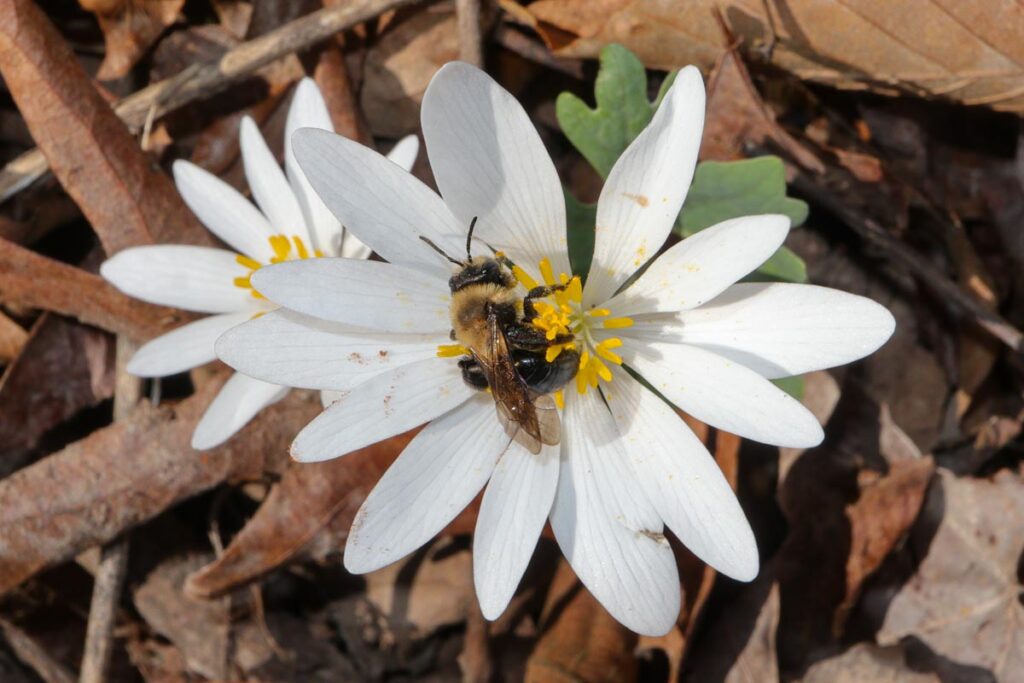 I sometimes dream about an enormous flower lasting for months created by my resident pollinators. Then again, it is easy to take for granted anything that is too common. These fleeting flowers force me to live in the moment, enjoying the evanescent beauty of a season when each day brings something new.