The meadows at the tops of some higher peaks in the southern Appalachians, locally known as balds, have spawned many theories. Possibly no one explanation fits them all, ranging from lightning fires to soil conditions. One of the more intriguing ideas is cold weather during the Ice Age prevented trees from growing on some summits, and they became grazing spots for wooly mammoths and mastodons. When these went extinct around 10,000 years ago, elk and deer moved in and continued to maintain the meadows. Then in the 1800s, farmers grazed their livestock and intentionally cleared the open summits. Their true origin will probably always remain shrouded in mystery, but it's fun to imagine extinct creatures creating them.
I became familiar with balds in visiting the Smokies over 40 years ago. I was fascinated by them and the unique plants and animals calling them home. A few years later, as part of my primate research, I explored Bintumani. This nearly 6400-foot peak in Sierra Leone is the highest mountain in the Guinea Highlands of West Africa. It shares similarities to the Appalachians, with lower elevations in dense forest and grasslands on the top.
When I first moved to northeast Tennessee in the mid 1990s, I enjoyed exploring the nearby balds. I have spent a lot of time on Roan Mountain. It takes less than an hour from leaving my driveway to be hiking in the balds there. Best known as the world's largest stand of Catawba rhododendrons, there is also an array of interesting flame azaleas which flower around now, with a wide range of colors on different peaks.
I am especially intrigued by the complex hybrid swarm of azaleas growing on Gregory Bald. This peak rises above Cades Cove in the Smokies, with an elevation from around 4800 to nearly 5000 feet. There are at least four species of azaleas on Gregory Bald, including Rhododendron arborescens, Rhododendron viscosum, Rhododendron cumberlandense and Rhododendron calendulaceum. Bees and other pollinators have created fascinating hybrids, with a riot of colors ranging from white through pink, red, orange, and yellow.
Some say the azaleas occurred there naturally, others suggest settlers brought the shrubs with them to the mountains, and these are the beautiful expression of a garden gone wild. Gregory was grazed until the mid 1930s. At that time, the azaleas grew mainly around the edge of the peak, but when sheep and cows were no longer allowed, they spread out into the open.
Records suggest the height of their show was in the 1950s. Since then, their numbers have continued to increase with intervention by the park service to cut back woody plants, but they are increasingly difficult to see as trees edge in from the adjacent forest. Over half of the bald has been invaded by blueberries, which seem to form a wild nursery for shrubs and tree saplings. Unless more aggressive actions are taken, eventually the azaleas will disappear.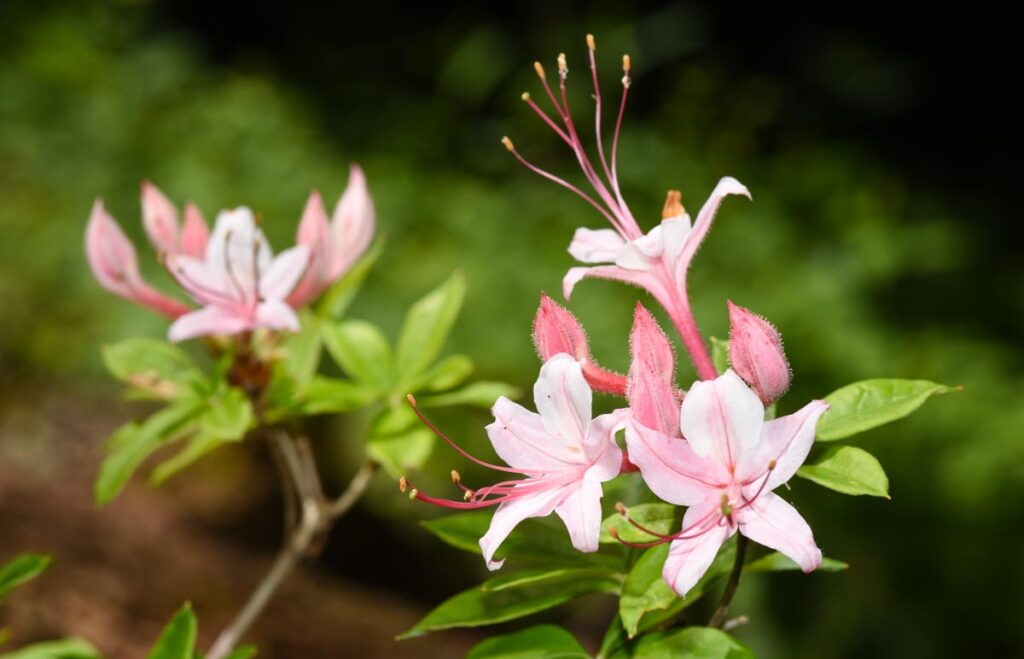 I have two specimens of Gregory Bald azaleas now blooming in my garden which show some of the variability of this population. One has orange and yellow blossoms, sold as R. bakeri from Sandy Mush Herb Nursery. This nursery has many positive associations for me, since it has been a wonderful source of plants since I moved to central North Carolina in the early 1990s. It was a treat to add more plants from them to my current garden. The other has soft pink petals, purchased from Mountain Mist Nursery as R. arborescens x R. bakeri x ? – the question mark suggesting even the experts are not always sure of the complete parentage of the Gregory Bald hybrids. This week as I admire their fragrant blossoms, I feel a bit of the distant mountaintops has for a time settled down in my yard, lending a hint of wilderness.